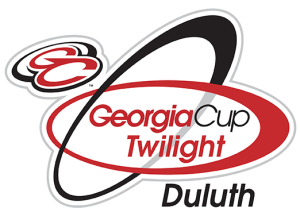 Summer might be winding down but Downtown Duluth events are still in high gear as the 2nd Annual Georgia Cup Duluth Twilight Pro Criterium rolls into town on Saturday, July 18, 2015.
This ultimate test of agility, endurance, and racing speed, offers an anticipated 400 cyclists the opportunity to compete against each other in a Criterium Racing course, all assembled on the streets of Downtown Duluth. The Georgia Cup races begin at 3:00 p.m. and conclude at approximately 8:30 p.m., when the winner is crowned.
Navigating the ¾ mile circular track weaving through Downtown Duluth will challenge cyclists as they jockey for the best position with the ultimate goal of leading the pack and crossing the finish line first.
Debuting in 2014, The Georgia Cup had a first-year Downtown Duluth crowd of 5,000 spectators, with the expectation of a larger attendance for the upcoming July 18th races. Male and female racers are divided into a series of heats, depending on age and gender.
This approximate six-hour racing event is also a family-friendly wellness opportunity for everyone to learn more about competitive cycling, along with diet, exercise, and healthier living options.  A variety of culinary choices will be available during The Georgia Cup as Duluth's bevy of recognizable food trucks will be parked downtown.
This activity-packed day concludes with an evening performance by the nationally-known band, Vertical Horizon, who will take the Festival Center Stage at 9:00 p.m. Formed in the late 1990s, Vertical Horizon is best known for their 2000 smash hit, "Everything You Want," which reached #1 on Billboard's Hot 100.
Fronted by vocalist, guitarist, and lead song writer, Matt Scannell, Vertical Horizon's music has been showcased on many television shows, including the NBC hit, "Chicago Fire."  The group has also enjoyed cross-over Country & Western success with their 2005 hit, "Best I Ever Had," in collaboration with performer Gary Allan. The group's latest album was the 2013 release of "Echoes from the Underground."
For better viewing of the Vertical Horizon evening appearance on Saturday, July 18th, Festival Center Stage tables can be purchased for $100.00 each.  With eight seats and the table, reserving a Premier Table guarantees closer access to the Vertical Horizon performance and a no-hassle evening of great music under the stars with family and friends.
As with Downtown Duluth celebrations, four-legged, leashed companions are welcome. No grandstand seating will be available for watching The Georgia Cup races, so bringing chairs and coolers from home is permitted for the day's events. There will be a "Merchant Free Zone" in which open containers of both alcoholic and non-alcoholic beverages are allowed within the race venue and concert area.
Volunteer opportunities with The Georgia Cup are another option for cycling enthusiasts or anyone else who desires a more "hands-on" experience. The perks of becoming a volunteer for The Georgia Cup include an official T-shirt, meals, drinks, and several snacks during the day, plus up-close interaction with the racers or sponsoring teams. For more information about volunteer options, please visit http://www.georgiacup.com/Entertainment.html.
Come join the fun on Saturday, July 18, 2015, for an action-filled day of exciting racing. Learn about healthier living, savor some great food, and enjoy an evening of marquee entertainment, featuring Vertical Horizon, all in one day!  See our full schedule of things to do in Duluth including this year's return of The Georgia Cup.