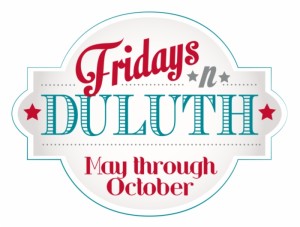 Breezy autumn evenings and the spacious Duluth Town Green are a perfect combination for the final weeks of Fridays-N-Duluth, October 2nd, 9th, 16th and 23rd, and Flicks on the Bricks, October 2nd and 16th.  These two popular Downtown Duluth events combine films, food, live music and a festive outdoor atmosphere.  Come join friends or neighbors in Downtown Duluth before the season ends!
Friday, October 2nd initiates the final month of transforming The Duluth Town Green into one of the area's largest movie-watching venues that is family and dog friendly!  An array of food vendors will entice movie-watchers with delicious aromas during Flicks on the Bricks and other downtown activities.  Fun inflatables will again be available for energetic kids to bounce away on the Town Green until the start of the movie.
Live music accompanies all Fridays-N-Duluth October events as The Highbeams make a return visit on October 2nd as a favorite group of Duluth audiences!   Performing from 6:00 – 9:00 p.m. this popular instrumental and vocal trio, comprised of brothers Adam & Ian Pendlington and bassist Stephen Quinn, will entertain the audience with smooth guitar strokes and soulful harmonies. The Highbeams opened the Fridays-N-Duluth May 1st summer concert season, and also appeared August 7th.
Other upcoming Fridays-N-Duluth October performances include Riley Biederer, October 9th, Drive Thru Junkies, October 16th, and a second appearance by The Regulars Band, October 23rd, prior to this season's Howl On The Green Friday, October 30th finale.
Riley Biederer is a 19-year-old Atlanta native, aspiring singer and songwriter, who is making her second Fridays-N-Duluth appearance.  She is presently recording a first album in such varied locales as Los Angeles, Nashville, New York City and Atlanta.
The five-member group of Drive Thru Junkies is Marietta-based and offers a varied repertoire from the Beatles to the Black Keys.   Their music is a marathon of yesterday, today and "rockin' it their way" tunes, which guarantees every audience a "danceable good time!"
The Regulars Band is known for their equal parts funk and rock and fronted by siblings Lee and Lindsey Smith, and group members Doug Ehler, Clay Davis, and Elliot Phillips.  Their soulful guitar and vocals guarantees a "rock-out" night to bring Fridays-N-Duluth to a spirited pre-Halloween ending!
The next weekend Howl On The Green invades the Duluth Town Green, Friday, October 30th, for all goblins to celebrate Halloween!  More ghoulish details upcoming!
Pack a picnic, grab a blanket or a few lawn chairs, leash-up your pooch, and come join the fun!  Watch a movie under the stars in a casual, outdoor environment and welcome the cooler temperatures of autumn.  All musical performances occur on the Duluth Town Green from 6 – 9 p.m., prior to the evening's Flicks on the Bricks movie.
The Flicks on the Bricks October 2nd movie is The Boxtrolls.   This animated feature follows orphaned "Eggs," a human boy who is being lovingly raised by a quirky group of underground characters living below the city of Cheesebridge.
The voice-overs for this unique group of cavernous "under-dwellers" and the evil villain who wants to "exterminate" them include Ben Kingsley, Elle Fanning, Simon Pegg and Tracy Morgan.  Rated PG, the film was based on the children's book, "Here Be Monsters" by Alan Snow, and released as an animated movie in September of 2014.  The Boxtrolls received an Academy Award nomination for "Best Animated Feature."
Friday, October 16th includes the Duluth Fine Arts League (DFAL) Annual Art Walk featuring local artists' visual, edible and interactive art. Flicks on the Bricks movie is The Maze Runner.   Rated PG-13, the film stars Dylan O'Brien, Kaya Scodelario, Thomas Brodie-Sangster, Will Poulter, and Ki Hong Lee as a group of abandoned teens who attempt to escape from the giant labyrinth in which they are held captive.  This film also was released during September of 2014.
Pack a picnic, grab a blanket or a few lawn chairs, bring a sweatshirt, leash-up a four-legged friend, and join the fun!  Come eat, hear great live music, watch a movie under the stars and "chill" with the cooler temperatures!  Celebrate October by enjoying a Fridays-N-Duluth with family, friends, or make new acquaintances in Downtown Duluth.   Discover why there are so many things to do in Duluth GA and what makes our city such a special place to live, play, or work!