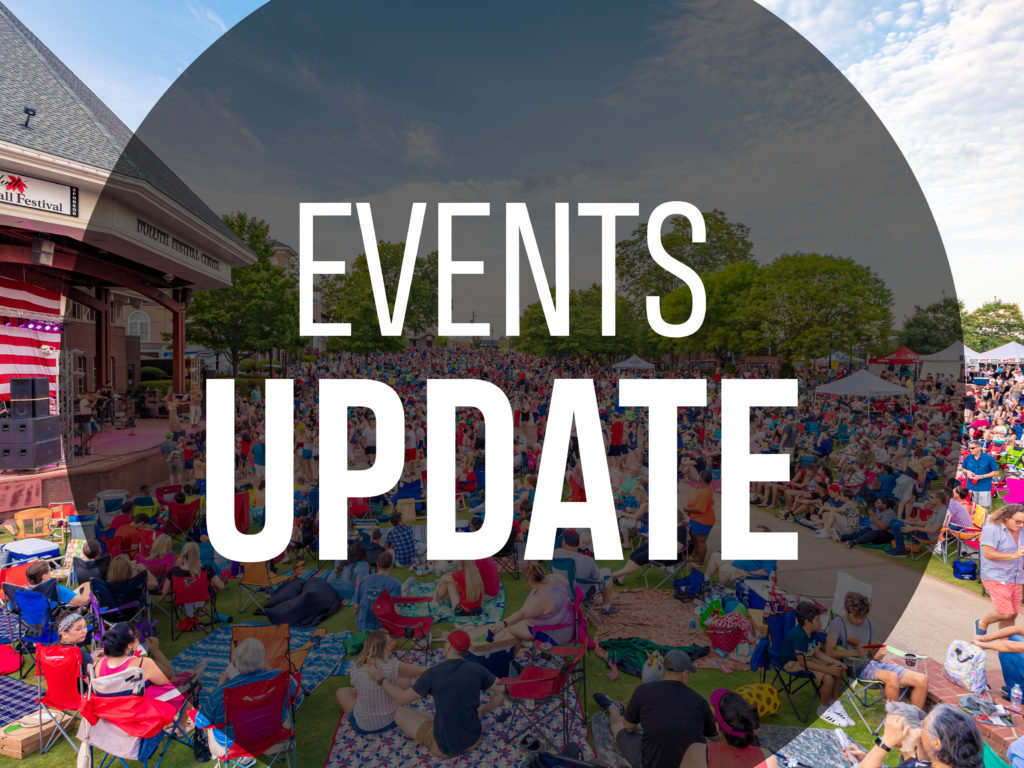 In an effort to further reduce the community spread of COVID-19 and with the ever-changing restrictions placed on large gatherings, the following additional events have been removed from the 2020 lineup:
• Fridays-N-Duluth presents Food Truck Friday (July 17 – Sept 18)
• Fridays-N-Duluth presents Block Party on Main (July 31 & Aug 28)
• Whatever Floats Your Boat (July 18)
• Back-to-School Bubblepalooza (July 29)
• Flicks on the Bricks (Aug 7 & Sept 4)
• Summer Stage Concert featuring Rock of Ages (Aug 15, will be rescheduled for 2021)
• Duluth El Senor Taco Festival (Aug 29 & 30)
• Duluth Arts Festival (Aug 29 & 30)
• September 11 Tribute (Sept 11)
• Duluth Derby Day (Sept 5)
• Community Yard Sale (Oct 3)
• Rocky Horror Picture Show (Oct 24)
• Duluth High School Football 5K
• Duluth High Wildcat Theater Musical
But we do have some good news, too! We will be featuring live entertainment every Friday and Saturday throughout the rest of the summer. There will be a DJ in Parsons Alley from 6-11pm and a live band on the Main Stage from 6-9pm so grab dinner from a local restaurant and hang out under one of the three socially distanced dining tents throughout Downtown.
While enjoying the tents and picnic tables, we ask that you take the following precautions:
• Sanitize the table when you arrive and when you leave by utilizing the provided sanitation stations
• Utilize the hand sanitizing stations located near the tents frequently
• Do not move the tables as they have been distanced with your safety in mind
• Clean up after yourself by disposing of all food and trash in provided bins before you leave
• No organized events or parties may take place
We thank you for your understanding and our event team looks forward to bringing back all of your favorite events when it is safe to do so!