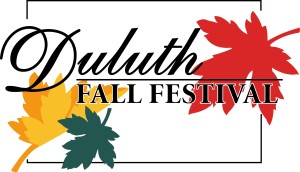 Autumn colors, the smell of cider and the sounds from a magical variety of entertainment fill the air for the 2015 Duluth Fall Festival, Thursday, September 24 – Sunday, September 27!   Celebrating its' 33rd year, this annual event has become a seasonal mainstay for Duluth residents, Atlanta citizens, and other Southeast visitors.
The Fall Festival Concert opens the 2015 Duluth Fall Festival schedule on Saturday, September 12th when Rupert's Orchestra will be headlining for the fourth year!  This group of 12-talented individuals guarantees to bring the evening's audience to their feet with a musical mixture of Motown, Big Band Era, and Classic Rock tunes.  Rupert's Orchestra will take the stage at 8:00 p.m. after a performance by Sacred City.  This soulful pairing of siblings Alyson and Phil Rogers, is the night's opening act, starting at 6:30 p.m.
Unfurling the carnival tent for the Duluth Fall Festival on Thursday, September 24, Gold Medal Shows will bring their family-friendly entertainment to Downtown Duluth for all four days!  Offering a dizzying array of carnival rides, delicious fair food, games, and other activities, the Midway will be open both Thursday, September 24th & Friday, September 25th from 6:00 p.m. – 10:00 p.m., and all day Saturday and Sunday until closing.
Featuring the Dizzy Dragon, Orient Express, and Rio Grande Train rides, Gold Medal Shows have provided carnival entertainment to the Atlanta area since 1969.  Gold Medal Shows is also known for their variety of fair food which will fill the Midway with the aroma of funnel cakes, elephant ears, French Fries, pizza, and other fan favorites.  No one will go hungry here!
The Duluth Fall Festival shifts into overdrive Saturday, September 26th with a variety of arts, entertainment, food, music, a parade, and silent auctions, all in one day!  Starting at 9:00 a.m., 250 artisan booths will welcome visitors offering visitors a vast selection of handmade items including ceramics, children's clothing, jewelry, metal sculptures, painting, photography, pottery, soaps, woodworking, and other mediums by vendors traveling from Ohio, Texas, and all states in-between.
At 10:00 a.m. the Duluth Fall Festival Parade officially opens the weekend festivities with the excitement of marching bands, street performers, fire engines, and other local groups, to entertain crowds aligning the parade route.  Former Atlanta Falcons star, Chuck Smith, is the 2015 Grand Marshal. Other Duluth Fall Festival Parade honorees include Honorary Grand Marshals Billy Boles, and the Duluth High School Boys Soccer Team, the 2015 State Soccer Champions!
Billy Boles is a Duluth native, resident, and decorated World War II veteran.  Boles fought in the Battle of the Bulge, was awarded the Bronze Star for bravery, and was held captive for five months by the Nazis.  He will turn 92 later this year.  The Duluth High School Soccer Team also will share the Honorary Grand Marshal duties with an impressive 21-2 season record and State Championship title!
The Duluth Fall Festival Parade route starts in Downtown Duluth at Main Street, turns South and East onto Highway 120, goes South at Buford Highway, and ends at Hardy Industrial Boulevard.  All traffic will be redirected from these areas before and during the parade.
The Duluth Fall Festival Parade is just the opener for a jammed Saturday line-up of musical performances and other special events!  Starting at 12:30 p.m. both the Festival Center Stage and the Calaboose Stage will offer a variety of 20 acts both for Saturday & Sunday for Duluth Fall Festival attendees to enjoy!
Television and radio personality, Walter Reeves, will offer his gardening advice and answer audience questions from 11:30 a.m. – 2:30 p.m., Saturday, September 26th.  Deemed "The Georgia Gardener," Reeves entertains fans with his "down-home" humor and helpful gardening tips.
Saturday activities conclude with the craft booths closing at 7:00 p.m. and the Duluth Fall Festival Carnival ending the Midway fun at 10:00 p.m.
Sunday, September 27th Duluth Fall Festival events begin early with the Duluth Donut Dash at 8:00 a.m.!  Each racer will receive a free donut and coffee from Dunkin Donuts on Buford Highway for getting up early and joining the other runners.
This is a U.S. Track & Field certified event and serves as a qualifying race for the July 4th Peachtree Road Race.  Awards will be given to the winners of the 15 age group categories, which range from age 10 and younger, to 75 years and older.  All funds raised from by the Duluth Donut Dash will be donated to the Methodist Children's Home to assist Georgia children who are in foster care.
Other Sunday, September 27th Duluth Fall Festival activities include a special outdoor Worship on the Town Green featuring members and staff of Duluth First United Methodist Church.  Everyone is welcome to join the event and you can bring a chair or blanket to enjoy an uplifting message to start the week!
At the conclusion of Worship on the Town Green, the Sunday entertainment line-up will take the Festival Center and Calaboose Stages from 11:30 a.m. until the Duluth Fall Festival ends at 5:00 p.m.  The Sunday, September 27th event calendar also includes a General Store Auction and a Silent Auction.
Ladies, is convincing your husband or boyfriend to attend the Duluth Fall Festival a challenge?  The wildly popular Man's Corner will return to Downtown Duluth to offer men the comforts of home while visiting the Duluth Fall Festival!  A few of these men-focused perks include televised college and professional football games both Saturday and Sunday from the Man's Corner tent and such "man-friendly" exhibitors and sponsors as the Atlanta Hawks, Big Green Egg backyard cookers, the Georgia Swarm, John Deere products, and Zero-Turn Mowers.
As with all good things that must end, the 2015 Duluth Fall Festival concludes at 5:00 p.m., Sunday, September 27th.  If past years' attendance are an indicator, an estimated 100,000 visitors will come to Downtown Duluth and enjoy the Duluth Fall Festival!  Why not be one of them? 
Come visit Duluth and Capture the Spirit of Good Living!
                                                ###