On August 10, t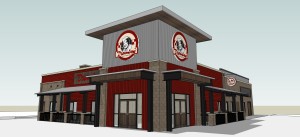 he Duluth Downtown Development Authority executed a formal Development, Purchase and Sales Agreement with Dreamland Restaurants of Atlanta, Inc. to construct a 6,500 square foot Dreamland Bar-B-Que restaurant. In addition, Dreamland selected Christian Brothers, Inc. (CBI) as its general contractor. Construction activities are slated to begin this week in September with removal of the existing warehouse structure. Some materials will be reused in the interior to reflect the history of the Parsons distribution facility which stood on the site.
Earlier this week Dreamland Duluth's General Manager Tim Clark visited the site to go over plans with Duluth City Councilman Kelly Kelkenberg. "We have taken the time to get to know this community in a very real way," said Mr. Clark.  "Dreamland's core mission from its inception in 1958 in Tuscaloosa, Alabama has always been to serve great food to its customers as family."
Councilman Kelkenberg echoed that sentiment: "Dreamland has set up a tent at every one of our Food Truck Friday events to answer questions and introduce our citizens and visitors to their way of doing business."
Construction of the facility is anticipated to take six months, with Dreamland being the first of an expected 11 total retail sites on the Parsons Alley Block area totaling some 42,000 square feet of new and adaptively-reused space.  The project also includes a central outdoor plaza to anchor the redevelopment at the top of Duluth Town Green.
"We are anxious to begin the visible part of this project" said Betsy McAtee, Dreamland CEO. "The new building is designed and will be constructed to reflect the heritage of Dreamland and the rich history of the Parson's warehouse district."
Dreamland will employ 75-100 full-time staff and has six locations in Alabama and one other location in Georgia.
###