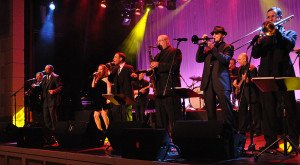 A star-lit sky, a balmy autumn breeze, and the perfect outdoor venue all combine for a memorable evening for enjoying live music, food, and fun at the Fall Festival Concert in Duluth, Saturday, September 12, from 6:30 p.m. to 10:00 p.m.
The Duluth Festival Center will be transformed into the ultimate downtown concert stage for two outstanding groups and the ultimate night of music and dancing!
The Southern blues, rock and soul duo, Sacred City, will open the evening, starting at 6:30 p.m., and The Rupert's Orchestra will follow at 8:00 p.m.
The Sacred City musical partnership of brother and sister songwriting team, Alyson and Phil Rogers, gives audiences a powerful performance of energized vocals by Alyson, while Phil provides unmatched talent on the guitar.
Based in Atlanta, the siblings have wowed fans with their musical talents combining various genres into their own unique sound. The two write songs that reflect an insightful and melodic commentary on the joys, loves, and losses of human life.
The Rupert's Orchestra headlines the Duluth Fall Festival Concert, taking the stage at 8:00 p.m. Formed in 1987, the "house-band" for Rupert's, a once-famous Buckhead bar and music venue, continues two decades later with a loyal Atlanta following, while also entertaining audiences nationwide.
This 12-piece group of talented musicians has a varied crowd-pleasing and danceable repertoire that includes the best of Motown, Classic Rock, current Top-40 hits, and 1940s-era Big Band music. Mark Coughlin, the group's first and only musical director, is one of six original members who remain from their days as the Rupert's "house-band."
Coughlin states that since Rupert's closed in 1995, The Rupert's Orchestra has carried on the name and has played 1,000 dates, ranging from their upcoming fourth year as the headliner for the Duluth Fall Festival Concert, to weddings and to corporate events for The Coca-Cola Company and the Olympic Committee, along with other city festivals, most recently in Chamblee, Norcross, and Woodstock.
A special addition to The Rupert's Orchestra for their Saturday, September 12th Duluth performance, is the return of famed vocalist, Alfreda Gerald. Compared to the soulful sound of Aretha Franklin, Gerald has toured worldwide with Yanni and other notable performers. Her searing vocals add to the excitement of the evening and The Rupert's Orchestra members are thrilled to have her back on-stage!
Bring your blankets, chairs, coolers, picnic baskets and small tables to enjoy this great evening of music and dancing in Downtown Duluth. If you don't have time to prepare your meal at home, a food vendor tent will be available for on-site dining options. Another idea is to come early, park, relax and dine at one of the many acclaimed Downtown Duluth restaurants. These merchants will also offer special "to go" items for easy take-away to the concert venue.
During a break between the two performances, the concert crowd will be offered a first look at the official 2015 Duluth Fall Festival t-shirt!
Occurring on September 26th & 27th, the Duluth Fall Festival averages 100,000 attendees visiting our historic city to partake in a multitude of events, including a state fair-type carnival with a midway and rides, children's activities, live music, a parade, a road-race, and much more.
As with all Duluth events, weather is never a factor and both the Fall Festival Concert and the upcoming Duluth Fall Festival will occur rain or shine and four-legged, friendly, leashed canines are welcome.
Come visit Downtown Duluth and discover all the city has to offer, while enjoying a great night of music at the 2015 Fall Festival Concert, Saturday, September 12th from 6:30 p.m. to 10:00 p.m.