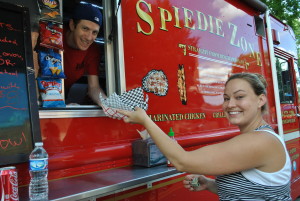 School may be starting soon, but there are still many things to do in Duluth this summer. August activities will be sizzling in Downtown Duluth with a calendar jammed full of spectacular concerts, movies, and Fridays-N-Duluth fun!
This red-hot month starts Friday, August 7th with Fridays-N-Duluth. A variety of gourmet food trucks will greet hungry downtown diners or concertgoers, starting at 6:00 pm.
After making a delicious choice from the many food truck dining options, or bringing your own picnic from home, the crowd-pleasing Highbeams, will perform from 6:00 – 9:00 pm. on the Festival Center Stage! Siblings Adam & Ian Pendlington are the nucleus of this group, with Bassist, Stephen Quinn completing the Highbeams trio.
Together since high school, this musical force has become a Duluth "go to" band, with several prior appearances. Known for their "adventure rock" spirit, these three dynamic musicians are performance veterans with two highly acclaimed albums, despite their youthful, on-stage appearance!
After the Highbeams rock the crowd, the lawn will transform into one of the largest outdoor movie-watching venues anywhere in Atlanta! The Friday, August 7th featured film is "The Giver," starring Brenton Thwaites, Jeff Bridges, and Meryl Streep. Rated PG-13 and released in 2014, this movie is based in a seemingly perfect world, void of crime, pain, suffering or war.
Jonas, played by Thwaites, is introduced to the "real world" via societal elder, "The Giver," portrayed by Jeff Bridges, who is the keeper of the community's secrets, and problematic past.   To save himself and those he loves, Jonas is forced to escape from this idyllic land, a seeming impossible feat that no one has previously accomplished.
Upcoming that next week, Bumpin' The Mango, will be featured at the August 14th, Fridays-N-Duluth event! This 10-member, Atlanta-based band consists of an abundance of talented individuals who have played with other nationally known bands, and notable musicians. Bumpin' The Mango will perform on the Festival Center Stage from 6:00 – 9:00 pm.
Once again, food trucks will be available for hungry concert goers and other Downtown Duluth visitors, starting at 6:00 pm.   Bring your coolers, lawn chairs, and small tables for a rockin' good time all evening!
The music keeps rolling that weekend when the ultimate party band, Yacht Rock Schooner, takes the Festival Center Stage, Saturday, August 15th, from 8:00 – 10:00 p.m! This eight-man band has been named "the smoothest dance party on the high seas!" which is demonstrated by loyal fans and a dedicated nationwide following!
Known for their late 70s' and early 80s' dance music, Yacht Rock Schooner, "plays tribute" to such artists as Steely Dan, Kenny Loggins, Michael McDonald, and The Beatles, with their own unique spin and style, including two keyboardists, talented vocalists, and a "killer saxophonist!"   Yacht Rock Schooner has performed with such marquee musicians as Sheryl Crow, Don Henley, Billy Joel, Kid Rock, Train, and the Zack Brown Band, just to name a few, and often play for Atlanta Braves fans.
Yacht Rock Schooner is well-known for "blurring the lines between a tribute, an original act, and a comedic troupe, to forge a unique niche in the musical market." Bring your blankets, chairs, coolers, and friends for one of the best concerts of the Summer Stage Concert Series! Or get up-close and personal with the best vantage point for Yacht Rock Schooner by purchasing one of the premier tables, at $100.00 each. You and seven friends can avoid the hassles of finding a lawn spot with reserved seating. Enjoy this spectacular Saturday evening of music, fun, friends, food, and GIANT games, including chess, checkers, and the newest addition, Volley-Pong!
Friday, August 21st, returns with the movie "Blended" which is the featured comedy/romance starring Adam Sandler and Drew Barrymore. Starting after the concert ends at 9:00 pm, this movie follows the derailed romance of Jim (Sandler) and Lauren (Barrymore). While vacationing, the pair unexpectedly encounters each other at a resort, after a less-than memorable first date back home. They eventually overcome problematic first impressions of the other and romance blooms, all to the delight of their "Blended" children!
The final August Fridays-N-Duluth event brings The Regulars Band to the Festival Center Stage August 28th, at 6:00 pm. Fronted by the brother and sister duo of Lee and Lindsey Smith, these two performers are known as a "soul-punching funky rock group!"
Lee Smith is famous for his rhythmic piano, while Lindsey provides vocals. The group also includes Elliott Phillips on drums, and Doug Ehlen, known as "the quiet genius," for his playing of "one ripping electric guitar!"
Food trucks will again be available for dining options or pack your own picnic from home! Coolers, lawn chairs, blankets, food, and four-legged companions are always welcome on the Duluth Town Green!
School might be starting, but the summer fun isn't ending in Downtown Duluth! Enjoy the great music, movies, and food, all upcoming in August!
August is sizzling in Downtown Duluth with an abundance of more summer activities! Come visit for an evening or stay for the day, and see why Duluth "Captures the Spirit of Good Living!"