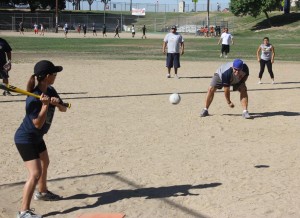 Duluth Parks and Recreation is pleased to offer a Coed Mushball Program for adults. Mushball will take place on Sunday afternoons at Bunten Road Park starting in August.
What is Mushball? Mushball is a lot like softball, except the ball is so much softer and larger. There is no need for a glove, you catch it with your hands and because it is so soft, it is difficult to hit very far. Mushball is imported from the Mushball Capital of the World, Chicago.
What are your rules? We use softball rules, sort of. Teams play with 10 defensively and must have at last 4 men/4 women on the field at a time (like kickball). As with kickball, all rostered team members must be in the batting order. The batting order may not have more than two men hitting in a row.
I DON'T HAVE A TEAM BUT WANT TO PLAY! You're in the right place! Many of our teams are formed completely out of independent registrants. Plus we have teams who usually need another player.
*HOW MANY PLAYERS ON A TEAM?* Typically, teams range in size from about 15 to 22 players. Since teams field 10 players defensively, you will want to make sure that you have substitutes available. If you need help with extra players, we always have free agents looking to join a team! Teams are capped at 18 players.
*CAN I FIELD AN ALL-MALE TEAM?* Sorry… co-ed or bust! If you check out the rules page you will learn that you must have at least four males and four females in the outfield at all times.
Age: 18 and Up
Schedule: 1st Game August 18, 2015
6 Sunday Afternoon Games
Season-Ending 1 Day Tournament
6 Sunday afternoon games with a season-ending 1 day tournament on the 6th week
Co-Ed: 8-20 Players per team.
Must have at least 4 women in every line-up
Team Fees:   $350 (70% Resident)     $375 (Non-Resident)
*Fees include T-Shirt
Equipment:
NO metal cleats
Balls provided by the Park
Must wear team t-shirt
For more information contact Duluth Parks and Recreation at 770-814-6981