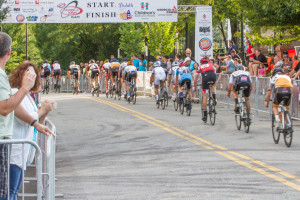 Cyclists will once again descend upon Downtown Duluth for the 2nd Annual Georgia Cup Duluth Twilight Pro Criterium, Saturday, July 18, 2015. Racing begins at 3:00 p.m. and concludes at 9:00 p.m. and offers spectators a thrilling vantage point to experience short track Criterium Racing, where cyclists reach speeds of 30 MPH or more in this distinctly American style of competitive cycling.
The wildly successful 2014 inaugural event of 400 racers will again this year be the ultimate challenge of agility, endurance, speed, and strategy as it returns to Downtown Duluth. A dizzying series of tight turns and straightaways on the ¾ mile circular track proves the ultimate test as cyclists jockey for position to lead the pack of riders for the goal of victory.
This all-day event is also a family friendly health and wellness opportunity to learn about cycling, along with diet, exercise, and healthier living options from vendors. The Georgia Cup includes food, entertainment, and an evening concert by the nationally-acclaimed group, Vertical Horizon, starting at 9:00 p.m. after the July 18th heart-stopping racing ends.
For those unfamiliar with this type of cycling, Criterium Racing is a multiple-lap race of 25 – 60 miles, which occurs on a short, closed track of a mile or less with multiple heats, depending upon the racers' gender and age. More powerful riders take control as they become familiar with the track and the terrain, while less skilled cyclists fall off the pace and attempt to avoid being lapped by stronger racers.
The challenges of continuous corners, straightaways, acceleration, braking, close proximities, and inevitable collisions, allow the superior racers to eventually become pack leaders, while slower riders lag behind and are eventually exited from the course. The Georgia Cup 2015 race course starts on Main Street, turns onto Hardy Industrial Boulevard, progresses to Hill Street, turns onto West Lawrenceville Street, and then returns to Main Street. Close spectator viewing along the route will allow the crowd to experience the race excitement almost as much as the riders!
If a pack of racers stay together, the race can end with a thrilling field sprint. This maneuver allows each team to propel their fastest member to the front, in a "sling-shot" type of cycling, for the final few laps and potential victory. It becomes the ultimate test of stamina, maneuverability, and sheer luck for the racers and the eventual winners.
In addition to the racing excitement, spectators at The Georgia Cup will have many dining and shopping options during this event-packed day. Food vendors parked near the race venue will offer a mecca of culinary choices and all Downtown Duluth merchants will be open during The Georgia Cup.
As with the majority of Downtown Duluth events, alcohol beverages are permitted throughout the venue, and friendly, leashed four-legged friends are welcome, portable chairs and coolers from home are permitted.  A "Chill Zone" will be available for cooling-down during the day to avoid overheating from the often steamy July temperatures.
After the racing ends, let the party begin!  Vertical Horizon will take the Festival Center Stage at 9:00 p.m., with reserved tables still available. For $100.00, you and seven friends are guaranteed great seats and can enjoy a no-hassle evening of seeing a nationally-known band perform in Downtown Duluth.
Volunteer opportunities for The Georgia Cup offer another option for cycling enthusiasts or anyone who desires a more hands-on experience and closer proximity to the race action.  The perks of becoming a volunteer for The Georgia Cup include an official T-shirt, drinks, and several snacks during the day, along with more interaction with racers and their sponsoring teams. For information about volunteering, please visit http://www.georgiacup.com/Entertainment.html.
Come experience the excitement of The Georgia Cup, enjoy the day, and stay for the evening, to hear a great concert by the acclaimed group, Vertical Horizon, all in Downtown Duluth!  "Capture the Spirit of Good Living" and discover things to do in Duluth with these great summer events!