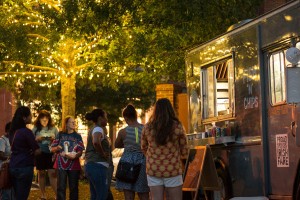 There are so many things to do in Duluth GA as the Fridays-N-Duluth summer fun continues July 10th, 17th, 24th, and 31st with an event-packed schedule, an extravaganza of food, foot-stomping live music, and a movie, all occurring on the Duluth Town Green.
Friday, July 10th, brings The Highbeams back for an encore performance from 6:00 – 9:00 p.m. This vocal and instrumental trio, composed of brothers Adam & Ian Pendlington, and bassist, Stephen Quinn, will be a guaranteed crowd pleaser with their combination of smooth harmonies and rousing guitar melodies.
The three native Georgians tour both across the country and closer to home.  They have released two albums and coined the term "adventure rock" for their collective enjoyment of venturing musically into the "unknown."
Prior to The Highbeams taking the stage, choose your dining pleasure for the evening from the variety of Food Trucks that will be encircling the Duluth Town Green. Bring chairs, a small table, or a blanket, along with your appetite, to enjoy a memorable evening of food and fantastic music by The Highbeams. This first Fridays-N-Duluth event for July will be memorable and a great opportunity to catch both local talent and delicious dining without the hassles of driving to Atlanta!
Friday, July 17th, combines the twice-monthly Flicks on the Bricks movie feature with both food and music, into a trifecta of Friday fun. Starting with Food Truck Friday at 6:00 p.m., continuing with a musical performance by Savannah Stewart from 6:00 – 9:00 p.m., and concluding at dusk with the movie sequel, How to Train Your Dragon 2, the evening is overflowing with options.
Savannah Stewart is an 18-year-old Atlanta native who performs and writes her own material.  She most recently sang with a Christian rock band, but comes to the Duluth Town Green as a singer soloist.  Savannah describes her music as "my own personal human experience: love, pain, fear, anger, confusion, persevering, healing, sharing, growing and celebrating."
How to Train Your Dragon 2 is the 2014 animated sequel to the wildly popular 2010 original movie. Voiced by such Hollywood notables as Jay Baruchel, Gerard Butler, Craig Ferguson, America Ferrera, and Jonah Hill, Cate Blanchett enters into the mix with her addition to the voice-over cast of characters in this animated feature.
The second installment of the book trilogy returns viewers to the world of best friends, Hiccup and Toothless, as they discover new adventures with their dragon friends. This DreamWorks animation feature, written by Dean DeBlois and Cressida Cowell, is rated PG.
Friday, July 24th, offers a combination of food and music for the Fridays-N-Duluth event. Starting at 6:00 p.m., local and regional cuisine will be available via the Food Truck Friday vendors for dining prior to a performance by The Regulars from 6:00 – 9:00 p.m.
Formed in 2005 by high school friends, The Regulars is a five-person, high energy group, which includes brother and sister team, Lee and Lindsey Smith, of Rex, Georgia. Described as a "cross between The Beatles and Stevie Wonder," many of their originally-written songs are a combination of "funky, piano-driven rock tunes," while other offerings are more introspective.
Brother Lee Smith, provides piano, vocals, and acoustic guitar, while sister, Lindsey, is lead vocalist. Other group members include guitarist Doug Ehlen and Elliott Phillips as the drummer. Bass guitarist, Clay Davis, who joined The Regulars in 2008, recently exited to pursue other opportunities.
The month concludes with the July 31st Fridays-N-Duluth combination of Food Truck Friday and a performance by Laughlin. Dining from the varied choices of food trucks begins at 6:00 p.m., with Laughlin taking the stage from 6:00 – 9:00 p.m.
Laughlin is a country-influenced duo of Zach & Allison Laughlin, who harmonize with riveting vocals and his acoustic guitar talents. They are partners both on-stage and in life. Performing in the Southeast for five years, the couple met while attending the University of Georgia, and recently was nominated for a Georgia Music Award of "Best Country Group." Their songwriting talents include such successful tunes as "Howl at the Moon" and "Boomerang."
Enjoy an event-packed July with four Fridays-N-Duluth, starting July 10th, and continuing July 17th, 24th, and 31st . Bring your chairs, coolers, blankets, tablets, leashed pets, friends, and neighbors to enjoy the full schedule of entertainment, delicious cuisine, and one incredible film on July 17th, all occurring on the scenic Duluth Town Green.
As with all downtown Duluth events, admission is free and open containers are allowed anywhere within the venue. Please remember, the Friday, July 3rd, Duluth Celebrates America takes the place of the Fridays-N-Duluth event.
When you ask yourself what to do in Duluth GA this summer, visit the Duluth Town Green and capture the Spirit of Good Living. See you in Downtown Duluth this July.