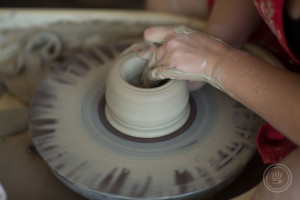 The City of Duluth is proud to host an 8-day art week designed to bring out the artist in you. From May 7th to May 14th, citizens can expect to see different forms of art throughout the City.
"If you didn't participate last year, you need to this year. It's a remarkable experience as you get to see ART in a different way each day" said Event Coordinator Maggie Waddell.
Similar to last year, beautiful wrapping will adorn poles and trees on Duluth Town Green. Residents will also get to keep art pieces found throughout Duluth City limits. The only catch is participants must post a picture with the item on social media. Citizens can also learn about dance, music and more.
New to the ART week lineup, citizens get to take part in the "ART of Food," by visiting various restaurants on the "Eat Like a Local" list who are offering specials in honor of ART week. They can also participate in a geocaching scavenger hunt and digital art classes. On May 7th, artists will kick off the week by showcasing different art mediums on Duluth Town Green from 11am-5pm. Throughout the week there will be plenty of activities to choose from www.duluthga.net/artweek.
Paint Duluth, a plein air event from May 5th-May 8th, is also included in ART week. Artists from all over the Southeast will come together to capture Duluth through paintings and compete for a cash reward of $1500.00. Paintings from this event will go on sale for the public on May 8th from 6pm-8pm at the Duluth Festival Center.
The weeklong event will wrap up with an award winning theatrical performance by Aurora Theatre. The musical play "Memphis" will hit the Duluth stage.
 "The birth of Rock 'n' Roll in the South happened in Memphis, but there is a lot more to this story than Graceland. Inspired by true events, pioneering disc jockey Huey Calhoun moves this iconic sound from radio to TV. You have got to see this live" said Ann Carol Pence, Co-Founder/Associate Producer at the Aurora Theatre.
The show is free to the public however VIP tables are available for purchase. Throughout the week there will be lots to see and experience.  To find what restaurants are participating in the "Eat Like a Local" portion, please visit www.duluthga.net/eatlikealocal.