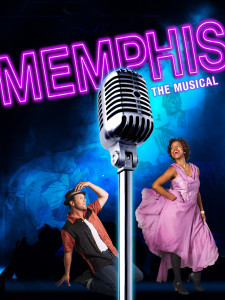 Aurora Theatre returns to the place where it all started for a one-night-only performance of the hit show Memphis, a co-production with Theatrical Outfit.
"We are just thrilled to have the Aurora Theatre back in Duluth. We wanted to provide a different aspect of the ARTS and I think we nailed it on theatrics" said Event Coordinator Maggie Waddell.
Loosely based on real-life rock 'n' roll pioneer Dewey Phillips, Memphis follows the story of quirky and irreverent DJ Huey Calhoun and his transformation of the iconic sound from the radio to the TV.  Breaking racial barriers along his journey, he falls in love with a soulful black singer and a cultural revolution is ignited! The musical is the wrap event of an 8-day concentration of the arts which consists of colorful tree wrappings, tweet & seek, dance, theatre, music, Eat Like A Local, geocaching art scavenger hunts, and digital art.
"An award-winning musical like Memphis was an unparalleled experience of fierce emotion, dynamic theatrics and the ability for audiences to immerse themselves in the story and characters," said Aurora Theatre's Producing Artistic Director Anthony Rodriguez. "This hot show combined with Duluth's incredible outdoor amphitheater will make this an unforgettable night!"
Memphis boasts an original score by Bon Jovi's founding member and keyboardist David Bryan with the book and lyrics by three-time Tony Award-winner Joe DiPietro. Last fall's award-winning local production was originally directed in 2015 by Theatrical Outfit's Artistic Director Tom Key with musical direction by Aurora Theatre Co-Founder and Associate Producer Ann-Carol Pence. Choreography was provided by Waverly Lucas, Artistic Director, Ballethnic Dance Company. Led by Suzi Award Winner Travis Smith, the company of twenty-five of Atlanta's best performers will reprise their roles. Winner of four 2010 Tony Awards including Best Musical, this story of passion, determination and sacrifice presents a moving musical for all to cheer for.
The show is free to the public however VIP tables are available for purchase. The VIP tables range from $200 – $450 for 4 to 8 chairs. A family style dinner from Dreamland BBQ is included in the price.  For more information on this event, contact Maggie Waddell at mwaddell@duluthga.net. To purchase a table, please click HERE; for additional events taking place during Art Week go to www.duluthga.net/artweek.