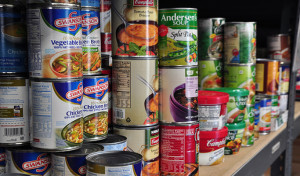 The City of Duluth Municipal Court is giving a much needed break to many this holiday season by accepting canned food donations for partial payment of fines.
Any person with a payment due between the dates of December 4th through December 21st of 2015; will receive a $25.00 credit towards the fine upon donation of 10 cans of non-perishable canned goods. The most anyone can get credit for is 10 cans per citation which is a maximum of $25.00 per fine. If someone has a citation that is $10.00 and bring in 10 cans, which is equaled to $25.00; they do not get a refund, credit, etc.
"The idea came from one of our local residents, Elaine Slonina, and we just thought it was a great idea to implement this year for the holiday season" said Lori Edelkind, Administrative Assistant.
Anyone who does not bring canned goods on their scheduled court date will be able to leave and bring back the items by 4:00 p.m. the same day of their arraignment. The cans must be a standard size. Industrial sized cans of food or foods that have a glass container are not accepted. Cans must be taken to the Duluth Municipal Court, at The Duluth Public Safety Bldg., 3276 Buford Highway, Duluth, GA 30096, (770) 623.2771.
The participation of the cans only goes towards the fines, not towards late fees, license suspensions, or warrant fees. This type of credit cannot be used for payment of fines for probation.
Suggested items include but are not limited to: cans of vegetables, tomato sauce, beans, tomatoes, fruits, proteins, peppers, corn, mixed vegetables, peanut butter, jelly, and soups of all kinds. We will not accept expired (out of date) canned goods, damaged or open canned goods. The food will be donated to the Duluth Co-Op, located on Fox Street, who will in turn distribute them to the needy.
Additional questions can be sent to Lori Edelkind, at ledelkind@duluthga.net or Melissa Hales at mhales@duluthga.net.