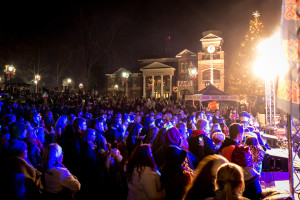 It's a Downtown New Year's celebration like no other!  Come join the party as 2016 arrives on the beautiful Duluth Town Green.
Sponsored again this year by Kicks 101.5 & the City of Duluth; the event will be hosted by morning on-air personalities Cadillac & Dallas. The festivities get rolling at 7:00 p.m. and keep partying until 12:30 a.m.!
The fun begins with a giant "snow slide" on Main Street in Downtown Duluth for kids and adults, and giant inflatables, for those a little younger. The festivities continue with giant games, food trucks offering a variety of delicious cuisine, live music, fireworks, and at midnight, the magical New Year's Eve ball rise!
As with all Downtown Duluth events, music will fill the air with a trio of performances to energize the crowd and welcome 2016!  A Duluth audience favorite, The Highbeams, will start the evening and get the party rocking on the Festival Center Stage!
Following the Highbeams, Drake Freeman Trio makes a return appearance after performing for the Duluth New Year's Eve bash last year.
As 11:00 p.m. nears, head-line performers, the Brothers Osborne, will keep the crowd rocking with their unique style of Country Rock, until just before midnight!  Brothers T.J. and John Osborne are now based in Nashville and have scored a Top 40 designation for country airwave stations with three hit singles.
Counting down at 11:55 p.m. fireworks will light the Downtown Duluth sky, as the ball rises to greet 2016!  Once the New Year begins, the Brothers Osborne will conclude the night's events with an encore performance until 12:30 a.m.
Some Downtown Duluth restaurants will be open for New Year's Eve dining. There will also be a variety of food trucks encircling downtown to provide take-away options for a picnic celebration on the Duluth Town Green.   Do you want to order your food in advance and pick it up when you arrive at the event? If so, Crave Pie & Steverinos are giving you the option. You can check out their NYE menu here: http://www.duluthga.net/community/2what_s_happening/upcoming_events/new_year_s_eve_celebration.php
Bring your blankets, coolers, lawn chairs, family friends, and anyone else, for a magical evening!  Adult beverages can be purchased from Duluth Package Store, Best of Brews, or you can bring your own from home.
What better way to ring in 2016?  Come join the fun!  Last year the Downtown Duluth New Year's Eve celebration packed the Town Green with 7,500 revelers!  So do not miss your chance to join the party for 2016!  See you there!