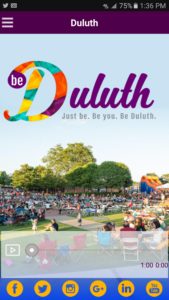 The City of Duluth is excited to announce the release of their new app. The "Be Duluth" City app was created to provide a better experience for the user. It provides an array of information.
Users can find general information about the City, a list of shopping and dining venues, parks, and meetings and events that can be added to their calendar. The report an issue function gives you the ability to report an issue, take a picture of the issue, map it and send to the appropriate city staff person to handle the issue. But it doesn't stop there; parking locations are also included as well as instant notifications from the City.
"Our goal is to use all available avenues to communicate with our citizens. So many stay connected through their mobile devices, so this new app is just another way to keep Duluth citizens engaged," said Alisa Williams, Public Information and Marketing Manager.
The new app was created by Populace and is ready for download on both Android and I-phone. To download the new app, look for the "Be Duluth" app in the stores.