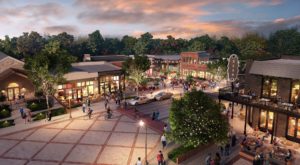 Exciting changes continue in Duluth! The downtown road projects are complete, Coleman Middle School is complete and open, Dreamland BBQ is complete and open, O4W Pizza is open, The Chocolaterie is open (have you seen the beautiful mural on the side of their building?!), and just last week a new restaurant, Piatto, opened in the former Huthmaker Violin location on Main Street. So much is happening and here are some updates on other ongoing projects.
The Block/Parsons Alley (Downtown Duluth) – Parsons Alley is in full swing!  There are media outlets available for Duluth to keep up with Parsons Alley's latest information.  Visit the Parsons Alley Facebook page at (https://www.facebook.com/parsonsalley/), and our website (www.parsonsalley.com) for frequent updates.  New tenant information will be released shortly, so hang in there for the BIG reveal.  The Parsons Alley team is so excited to be a part of Duluth!
Village in Duluth (former Proctor Square on Buford Hwy) – The Residential Group Builders report they have reached 75% completion of the demolition of the site and expect to be completed by the end of August. Grading of the site is slated to start mid-September. On the development side, The Residential Group is in talks with Google to bring Google Fiber internet and HD video to the property. Architectural Drawings have been submitted to the City of Duluth for permitting and the first round of comments will be reviewed shortly.
Downtown Residential Project (in front of Town Park Place) – Home South Communities (www.HomeSouthCommunities.com) is planning to begin development this Fall on an exciting new luxury townhome community located within walking distance to the shops and restaurants in vibrant downtown Duluth.  The new community will consist of 36 beautiful townhomes featuring spacious 3 story brick designs that will each have a 2 car, rear entry garage.
Home South Communities proudly showcases the best in quality and value while exemplifying the beauty and soul of Southern tradition making us a unique new home builder in today's marketplace. Each home features the very latest in home design trends, energy-efficiency and craftsmanship. At Home South Communities, we are proud to partner with Atlanta's best trade contractors and suppliers to deliver homes unrivaled by the competition. Home South will release more details as soon as possible, so be sure to check back soon!