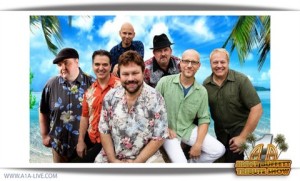 It's a TOES IN THE SAND evening, Saturday, June 20th, when the 2015 Summer Stage Concert Series transforms the Duluth Town Green into a Key West-styled BEACH PARTY for all ages to enjoy. Featuring A1A, the ultimate Jimmy Buffett Tribute Band, 200 TONS of sand, numerous colorful Adirondack chairs for relaxing, cool beverages, delicious food, and some "Parrot Head" devotees, and suddenly Downtown Duluth magically transforms into Key West!
A1A is the headliner for this free Margaritaville-fun night, arriving on the Festival Center Stage at 8:00 p.m. for the Duluth 2015 Summer Stage Concert Series season opener.  Known as the only Jimmy Buffett Tribute Band endorsed by Jimmy Buffett himself, A1A is a Tropical Rock-genre group that has toured the United States, Japan, Mexico, and the Caribbean. They have played for MicroSoft Founder Bill Gates, Ted Turner, The Atlanta Braves, The Georgia Aquarium, and many other corporate functions, and have also released multiple CDs.
Should you need more activity than just enjoying a relaxing night at the "beach," giant-sized board games will entice both adults and kids to partake in the festive Key West atmosphere.  "BIG" checkers and chess boards, just like those made famous in Tom Hanks' 1988 film classic of the same name, will be available for matches. "Volley Pong," an alcohol-free game combining volleyball and "Beer Pong", is a version of the college spring break drinking game without the alcohol and will be an offer for lots of fun.
Another "garden game" option is Giant Connect 4 that has several game boards available for friendly competition. Described as vertical tic-tac-toe using round disks inserted into vertical columns, the first player to connect four of the same-colored disks is the winner. Since each game board stands upright instead of on the ground, Giant Connect 4 allows for multiple boards in a small area and is great for both adults and kids.
To enhance the Tropical Paradise atmosphere of this A1A season-opening concert, 20 tables will be available for purchase for the Saturday, June 20th, show and also for the other upcoming shows.  Each table offers eight chairs for you and seven of your closest Parrot Head fanatical-friends to enjoy this Key West-themed evening.
A table decorating contest will allow beach lovers to channel their best Parrot Head tribute via the table. Judges will tour the competing entries at 9:00 p.m. and announce the evening's winner.  The Most Festive Table prize is a post-concert backstage "meet and greet" with members of A1A.  The cost of each table is $100.00 so reserve yours now.
Table seating begins at 6:00 p.m. to commence decorating and non-purchasers can assemble their own "island paradise" with blankets, chairs, coolers, and other tropical-themed items brought from home to the Duluth Town Green.
Founded in 1989 by original member Jeff Pike, A1A remains the only Jimmy Buffett-endorsed tribute band.  After Scott Nickerson joined Pike in 1989 to provide percussion and harmonica, A1A won the "Jimmy Buffett Sound Alike" contest of 1992, which was sponsored by Margaritaville Records.
Nickerson was a Jimmy Buffett fan long before he joined A1A. He established the first chapter of the Parrot Head Club in 1988 in Atlanta, and it has become a worldwide Buffett-devotee phenomenon.  A1A is the only tribute band to headline the annual Parrot Head "Meeting of the Minds" convention eight years, consecutively. Members of Jimmy Buffett's Coral Reefer Band have played with A1A and Jeff Pike has jammed with the master himself and his musical entourage.
Other upcoming 2015 Summer Stage Concert Series dates for this four-show Duluth event include Vertical Horizon on July 18th, Yacht Rock Schooner scheduled for August 15th and Rupert's Orchestra on September 12th.
The first three summer stage concerts start at 8:00 p.m., rain or shine. Coolers, blankets, and chairs are allowed on the Duluth Town Green for each of the three musical performances, but no tents are allowed.
The area is an "Open Zone" which permits alcoholic beverages to either be purchased from Duluth Town Green vendors or carried from home into the venue via coolers.  And as always, friendly, leashed canine companions are allowed to enjoy the festivities accompanied by their beach-loving owners.
So if you are looking for things to do in Duluth in June, come visit Key West in Downtown Duluth on Saturday, June 20th, and let your inner Parrot Head loose for the evening!  Why travel to the beach this summer when Key West will be coming to you on the Duluth Town Green? Become a Parrot Head for the night and experience the summer fun without the travel hassles or costly expense, all in Downtown Duluth!
###