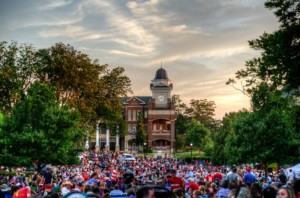 It's a Red, White & Boom extravaganza to celebrate America's 239th Independence Day in Downtown Duluth! This patriotic party offers a variety of things to do in Duluth for everyone. All events will occur on the historic Duluth Town Green from 6:00 p.m. until 11:00 p.m on Friday, July 3.
The July 3rd Duluth Celebrates America event includes 20 Premier Tables available for purchase, giving patrons a hassle-free holiday, and the best seats available to watch the evening's magnificent fireworks! These Premier Tables include eight chairs and a 60" round table and are priced at $150.00 each. Rally your family and friends to join the party and reserve your table today.
A spectacular fireworks show is guaranteed when spending the upcoming Independence Day celebration in Downtown Duluth!  12 Stone Church is the Cornerstone Sponsor for the 2015 Duluth fireworks.  Founded in 1978 by Kevin Myers, the church has expanded to nine Northeast Georgia campuses, including the original Gwinnett site, and a weekly combined attendance of 10,000. Thank you, 12 Stone Church for being the 2015 Cornerstone Sponsor!
Prior to the colorful fireworks, enjoy time with family and friends. The Duluth Town Green opens at 6:00 p.m. to claim your Premier Table or to come and assemble a group on the lawn with blankets, chairs, coolers, or other items from home, but please no tents.  There will be ample parking, and, as with all Duluth Town Green events, admission is free.
Food vendors for the July 3rd Duluth Celebrates America event will provide a variety of culinary delights and both nonalcoholic and alcoholic beverages for purchase. There will be a Licensed Merchant Zone, which will allow attendees to walk the area with open containers, either purchased or brought to the event by patrons.
The "BIG" games are scheduled to make a repeat appearance July 3rd after their June 20th debut at the Summer Stage Concert Series. Adding to the family fun will be such "BIG" games  as Checkers, Chess, Giant Connect 4, and Volley Pong.
In addition to this spirited July 3rd Duluth Celebrates America event, two musical groups will entertain the crowd prior to the fabulous fireworks!  The 116th Army Band & Funk/R & B is scheduled to arrive on stage at 6:00 p.m.  This "modern military" style ensemble will combine a patriotic theme with more modern tunes until 9:00 p.m.
This band is the oldest military musical group in existence, founded in 1859. Past performances included many American wartime conflicts, dating back to the Civil War, WWI, and WWII. As of 1968, the band became an independent organization, separate from military affiliation.  This change is reflected in both the group's updated name and in their blend of both patriotic and modern music.
The Mike Veal Band follows at 9:00p.m. This Georgia-based Southern Blues group is also a crowd favorite.  Lead singer, Mike Veal, lived in both Macon and Milledgeville during childhood and became a young fan of such notable Southern performers as Gregg Allman, James Brown, and Otis Redding.
Veal cites these soulful, timeless musicians as influencers of his performance style and the band's focus. The Mike Veal Band has evolved into a premier Southern group and continues the legacies of those great artists.
At 10:00 p.m., the spectacular Duluth FIREWORKS bring the evening to a festive end! Thank you again, 12 Stone Church, for your Cornerstone Sponsor generosity.
During the Friday, July 3rd celebration, if a child becomes separated from family or if someone should need First Aid, a Duluth Tent will serve as a venue for parents to find lost children or assist with other emergencies.
Duluth prides itself for being very dog-friendly, however, due to a canine's sensitive hearing and the loud noises and bright colors emitted from fireworks, this July 3rd Duluth Celebrates America event is not the best event for our four-legged friends.
Come join the festivities and celebrate America's 239th birthday on the Duluth Town Green, Friday July 3rd, starting at 6:00 p.m.  It will be a patriotic celebration all ages will enjoy.  We invite you to visit Duluth, show your patriotism for the upcoming July 4th holiday, and Capture the Spirit of Good Living!