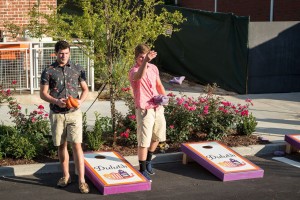 Are you a person who wants to plan to do something, but can't find the time or energy? How about joining a fun activity, but don't know if you can truly commit? Well here's an idea! Why not try the Duluth Cornhole League? Now, I know what you're thinking. Why me? But, why not?
It's an every Friday event in Downtown Duluth; where you were already planning to go and/or take part in food trucks, free movies, shopping and more. But now you'll be a part of an official team (league) whose main goal is to connect people, build a community, and play Cornhole! You can even create your own team and get your family and friends involved. Think about it! Your team can be "the team" to beat; all while having fun.
The popular tailgate game will consist of three 8-week leagues and will be a fun edition to Fridays N Duluth when it begins. The seasons include an ending tournament with a championship trophy and other prizes. Top teams from each location will be eligible to compete in a larger tournament with a chance to win additional prizes! Other participating leagues are: Buford, Cumming, Flowery Branch, Oakwood, Peachtree Corners, Snellville, Sugar Hill & Suwanee.
The Duluth Cornhole League kicks off March 25th on Duluth Town Green. You can register with discount code "SPRING20" and save 20 dollars off your fee. You must sign up in advance to participate. http://peachstatecornhole.com/leagues/cornhole/82589 It's a licensed merchant zone, so you can grab a drink, your family and friends and meet us on the Green.
Please note: Fridays N Duluth/Food Truck Friday kicks off May 6, 2015.