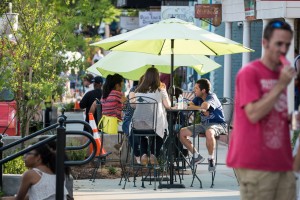 PROGRESS is happening in Downtown Duluth! New businesses are taking shape; investors are swarming and new faces are becoming oh so common.
To many, it will seem like it was just yesterday when the Parsons store located on Main Street stood tall. But now new buildings are going up; particularly the long awaited restaurant-Dreamland Barbeque- that is finger lickin' good. It's all a part of the City's plan to make Downtown Duluth an even more attractive place for both the old and the young while increasing walkability for all to enjoy. Are you looking for a place to live? Dine? Work? And/or enjoy time off? If we don't have it…it's coming.
(1)The 10+ restaurants planned for Main Street will offer the selection you're looking for. Already, a new Italian Restaurant is in the process of opening up shop.
(2)Change is coming to Proctor Square. That's right. A mixed use development will soon rise from the ground up. You'll be able to live and work there and be steps away from a variety of food choices.
(3)Housing options will soon flood the streets of Downtown Duluth as single family homes, townhomes and apartments will stake their claim.
(4)The public library in Downtown Duluth is a go! When will it open? Don't know that yet.
(5)Lastly, the construction of the Sugarloaf Market is going well. You will be able to live, shop and eat there with easy access to Downtown Duluth.
We are a City on an economic uprising. Don't miss the opportunity to discuss these topics and more with Duluth City Council on March 19th at Dunkin Donuts located at 3185 Buford Hwy from 9:00am to 10:00am.