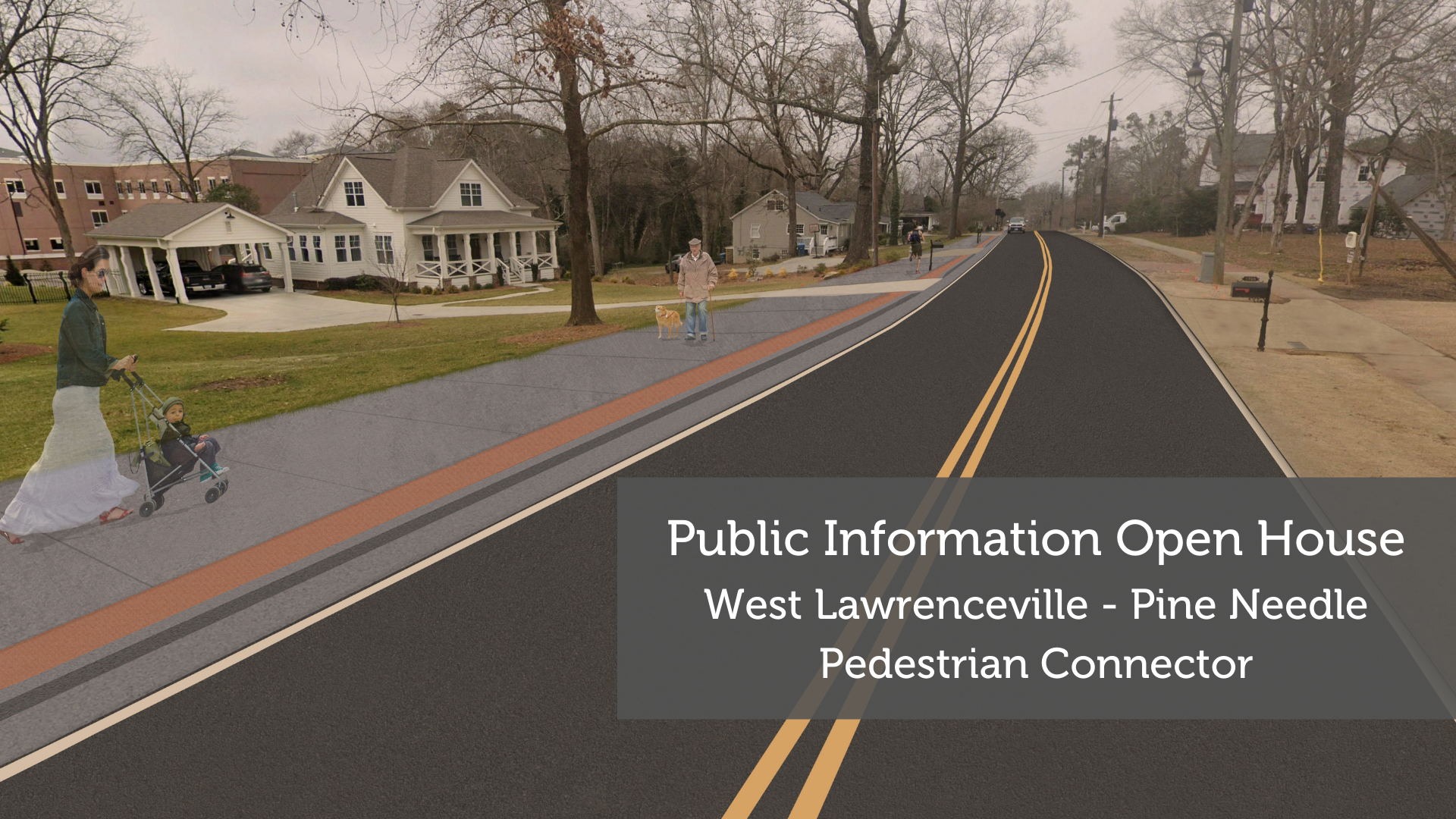 On Tuesday, August 24, 2021, the City of Duluth will hold a Public Information Open House (PIOH) to determine the level of public interest in a potential pedestrian project.  The potential project, currently called the West Lawrenceville – Pine Needle Pedestrian Connector would, if constructed, connect cyclists and pedestrians to/from and around downtown Duluth on a roadside trail along West Lawrenceville Street, Pine Needle Drive, and SR 120/Abbotts Bridge Road.   The meeting to discuss this project with the public will be held in person in the lower-level community room of City Hall, located at 3167 Main Street, Duluth, GA  30096.  CDC Guidelines in effect at that time will be enforced.
The meeting will be conducted between the hours of 4:30 pm and 6:30 pm. The meeting will be informal and the public is invited to attend anytime during these hours. There will be no formal presentation.
The project has not yet started.  A potential concept design will be available for discussion purposes only.  There are no funds available yet for this project.  The goal of the meeting is to solicit input and gauge public interest.  There will be an opportunity to leave written comments.  Based on feedback from the public, the City may apply for federal funding in order to design and build this project.
For those not comfortable with in-person interaction, there will be a virtual PIOH on the City's website from August 24 through September 7.  Comments and input are encouraged to be left online and will be included with the written comments collected at the in-person meeting.
Americans with Disabilities Act (ADA) Information:
The meeting site is accessible to persons with disabilities. Accommodations for people with disabilities can be arranged with advance notice by calling Ms. Margie Pozin, City Engineer, City of Duluth Planning Department, 678.957.7284.
Written statements will be accepted concerning this project until September 7, 2021. Please submit written statements to:
Ms. Margie Pozin, PE
City Engineer
City of Duluth
3167 Main St
Duluth, Georgia 30096
OR
Subject Line:  West Lawrenceville – Pine Needle Pedestrian Connector Comments