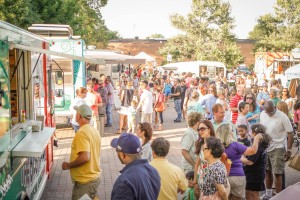 The countdown to Friday, June 5th has begun, when Downtown Duluth transforms into an epicurean adventure for dining enthusiasts! After the wildly successful 2014 introduction of Food Truck Friday, this weekly summer event returns and combines with Fridays-N-Duluth and Flicks on the Bricks.
Starting June 5th,, Food Truck Friday is filled with good eating, music, socializing, and movie watching.  Just name your craving and a food truck catering to that temptation will be waiting on Main Street starting at 6:00 p.m.
Eight or more food trucks will kick off this weekly outdoor cavalcade of culinary choices from traditional Southern BBQ to the most unique gourmet creations. Vendors will be vying for your taste buds! There will be delicious cuisine for all palates, great entertainment with that evening's Fridays-N-Duluth musical performance, and the screening of Planes: Fire & Rescue for Flicks on the Bricks.
Adult beverages to accompany the delicious food truck selections will be available, with Downtown Duluth designated as a Licensed Merchant Zone. This allows the purchase and enjoyment of all beverages while listening to the June 5th live musical performance during Fridays-N-Duluth, shopping at the variety of merchants, or later watching the Flicks on the Bricks movie starting at dusk.
Once visitors have reached their caloric limit for the delectable tastes from food truck vendors, they can grab a chair or a blanket and relax on the Duluth Town Green.  The Regulars is the scheduled group for the Fridays-N-Duluth June opener. The Atlanta-based band is anchored by brother and sister team, Lee & Lindsey Smith, who provide both vocals and rhythmic piano.
Self-described as "equal parts Rock & Funk with a whole lot of Soul sprinkled on top," The Regulars have performed locally, at many college campus events, and at various East Coast venues since 2005.  Other band members include: Douglas Ehlen on lead electric guitar, Clay Davis the "funky bass guitarist," and drummer, Elliott Phillips. Scheduled musical performances for future Fridays-N-Duluth include Open The Skye on June 12 and the High Beams on June 19th.
After The Regulars has energized the June 5th crowd, the Flicks on the Bricks featured film is Planes: Fire & Rescue.  Released in July 2014, this Disney Toon Studios hit is the sequel to the 2013 feature, Planes.
As a second animated action film, Planes: Fire & Rescue continues the adventure of "Dusty Crophopper." After becoming a famous racing plane, Dusty is forced to find another profession when his aging gearbox becomes too damaged to continue as a thrill-seeking racer.  His next mission begins upon joining an elite group of firefighting aircraft assigned the duty of protecting Piston Peak National Park. While working with new comrades Blade Ranger, Lil' Dipper, Windlifter, Cabbie, and Smokejumper, Dusty learns the value of working as part of a team.
The character voices for Dusty and his Planes friends are provided by Dane Cook, Stacy Keach, Brad Garrett, Teri Hatcher, Danny Mann, and Cedric the Entertainer, who join new cast members Hal Holbrook, Julie Bowen, Ed Harris, Wes Studi, and Dale Dye. Other upcoming Flicks on the Bricks features include: Maleficent on June 19, How to Train Your Dragon 2 on July 17, The Giver on August 7, and Blended on August 21.
When you are thinking about things to do in Duluth come and experience the June 5th launch of Food Truck Friday for 2015, while catching the spirit of Fridays-N-Duluth, and also enjoying the Flicks on the Bricks feature of Planes: Fire & Rescue, all combined into one magical evening!  It will be a summer to remember with a calendar full of fun activities beginning June 5th.  See you in Downtown Duluth!