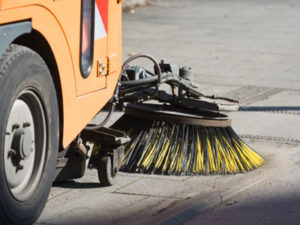 The City's street sweeping contractor will return to sweep City streets beginning Monday, November 13th, and will sweep nightly.
We anticipate that it will take approximately four to six weeks to complete the entire City. Staff will begin posting "Temporary No Parking Signs" along the streets at least 24 hours prior to street sweeping.
Help us keep our waterways clean. When the street sweepers are in your area, please remember to do the following:
Move vehicles off the street between 7:00 PM and 7:00 AM
Remove garbage, recycling, and yard waste containers from the street
Trim low-hanging branches and bushes near the street to provide street sweepers complete access
Dispose of leaves and lawn debris properly, and do not blow them into the streets or drains
Why does the City sweep the streets?
Enhance the appearance of the entire community
Prevent street dirt, debris, trash, and other pollutants from polluting our streams
Prevent clogging of storm drain catch basins
Promote compliance with our NPDES regulations
For more information, contact the Stormwater Division at 770-497-5311.