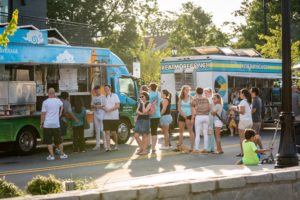 One of Duluth's most popular events, Fridays-N-Duluth, returns May 3rd to kick off summer fun on Duluth Town Green. Fridays-N-Duluth starts on May 3rd with Food Truck Friday.
It's an event that has something for everyone to do including: food trucks, live entertainment, a free lantern making station by the SKA Academy of Art and Design, a lantern walk, the Duluth Fine Arts League ART Walk in Parsons Alley and much more. There will also be games and live music on the Festival Center stage and in Parsons Alley. The fun kicks off at 6pm on Duluth Town Green.
Fridays-N-Duluth will take place every Friday at 6pm, May through August, with the last Friday of every month featuring Block Party on Main. It will have delights from hometown favorites for all to enjoy, as well as live music from 6-8pm in Parsons Alley and free air balls from Xtreme AirBalls on Duluth Town Green. A free concert will wrap up the evening on the last Friday of every month with a spectacular performance from 8-10pm.
"City of Duluth events have a reputation for being very creative and having something for everyone. We hope to continue the trend of creativity and hospitality with the Block Party on Main this year, a new addition to the Fridays-N-Duluth event" said Event Coordinator Kristin Edwards.
But it doesn't stop there! Flicks on the Bricks, which showcases free movies on Duluth Town Green, will follow Food Truck Friday on the first Friday of each month from June-August. On June 7th, Flicks on the Bricks presents Wonder (PG). Aquaman (PG-13) will be showing on July 5th and on August 2nd, Incredibles 2 will be on the screen.
Fridays-N-Duluth is a fantastic experience for families to enjoy spending time together while they watch a movie, experience live entertainment, theatrics, food and more. Vendors will be on hand where families can purchase sweet treats, refreshments, play on inflatables or get your face painted. This is a licensed merchant zone event so grab a drink, your family and friends, and meet us on Duluth Town Green for a great time.
Block Party on Main Lineup:
May 31st: The Breakfast Club
June 28th: Fool House
July 26th: Fly Betty Band
August 30th: TBA