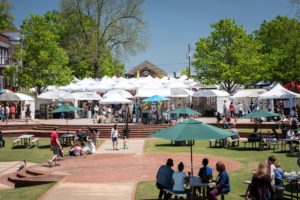 Duluth kicks off Art Week 2019 with a two-day juried Arts Festival presented by the Atlanta Foundation for Public Spaces on April 27th & 28th. Live music and food trucks will accompany the event along with 60 painters, photographers, sculptors, leather and metalworkers, glass blowers, jewelers and crafters.
"We love the ARTS here in Duluth and this week-long event showcases different types you can experience" said Event Coordinator Kristin Edwards.
On April 29th "Tweet and Go Seek" returns with hidden art pieces around Duluth City limits with a fun scavenger hunt for all to enjoy. The hunt begins in the afternoon when clues are posted on the City of Duluth's Facebook page (https://www.facebook.com/cityofduluth/). That evening, enjoy a musical performance by Coleman Middle School Orchestra in Parsons Alley from 6-8pm at "Tuesday Takeover". "Ignite Your Heart" with colorful tree wrappings and art pieces made by community members will be displayed on Duluth Town Green on May 1st.
On May 2nd, bring dinner or choose from one of our local restaurants and enjoy live music, live art and more in Parsons Alley from 6-9pm at "Eats & Beats". Enjoy the Duluth Fine Arts League ART Walk & a Lantern Walk at Duluth's Food Truck Friday on May 4th. Artists will showcase their pieces in Parsons Alley while residents have the opportunity to make free lanterns with SKA Academy on Duluth Town Green. The lantern walk will take place at 8:30pm on Town Green.
The weeklong event will wrap up with a theatrical performance by Duluth High School Theatre. The musical play "Godspell" will hit the Duluth Festival Center stage at 8pm. The show is free to the public however VIP tables are available here https://www.eventeny.com/events/ticket/?id=219
Happening all week long, Chattahoochee Yoga will offer free yoga classes as part of Duluth Art Week. Simply enter the code "ARTWEEK" when reserving your spot at www.chattahoocheeyoga.com. The Hudgens Center for Art & Learning is offering 15% off in the gift shop if you mention "Art Week."
"Eat Like a Local" all week as local restaurants showcase what food Duluth has to offer. To find what restaurants are participating in the "Eat Like a Local" portion, please visit www.duluthga.net/eatlikealocal. For more information about Duluth Art Week visit www.duluthga.net/artweek.