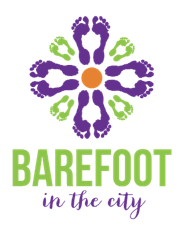 Art lovers unite in Duluth!  Our city's cultural extravaganza begins May 9th with the weekend art festival, Barefoot in the Park, and continues with the premier of Barefoot in the City, part of Duluth Art Week that runs through May 16. This eight-day celebration spotlights Duluth's ongoing commitment to public art, interactive art, and the culinary arts, and also unveils the city's long-anticipated Public Art Master Plan.
Barefoot in the City will be an ongoing showcase of art-inspired activities, adventure, dance, displays, festivities, food, and fun, and includes a Fridays-N-Duluth event, all occurring at various Duluth venues. These scheduled events transform the city into a mobile canvas of artistic adventure during Barefoot in the Park and continues for six additional days of festive art-themed activities with Barefoot in the City.
Starting, Saturday, May 9th, at 2:00 p.m., the much-awaited unveiling of the Duluth Public Art Master Plan is scheduled for viewing. Occurring at 3111 Main Street, the event will use a Japanese-based PechaKucha-style of presentation, with 20 slides presented at 20-second intervals. This will allow residents and visitors to preview the future of Duluth's planned public art projects, and also learn how Duluth leaders envision art as an enhancement to the city's open spaces, with city staff available for answering questions.
"Ignite Your Art with Art," is the theme for Saturday's ongoing celebration, which will include colorful and artistic "Tree & Light Pole Wrappings" throughout Duluth by local groups, talented amateurs, and professional artists to enliven these overlooked "canvasses." Trees and light poles aligning Main Street, the Duluth Town Green, and in front of merchant venues will be targeted, with this activity continuing during the eight-days of Barefoot in the City.
Other all-week interactive events include, "Before I Die," a written self-reflection by area citizens.  Participants will write their "Bucket List" aspirations on triangular chalkboards to showcase goals they hope to accomplish. Three locations will host this event, with chalk and chalkboards available at the Duluth Town Green, Duluth High School, and Bunten Road Park, during Barefoot in the City festivities.
An homage to the corporate founding of Tyson Chicken and the company's Duluth roots, the "Chicken Dash" is the Sunday, May 10th theme and this will be an ongoing daily event to discover that day's location of "Dee Dee," the "feathered" Duluth mascot.  This is a fun family activity that honors Duluth's history as the birthplace of the Tyson Chicken dynasty.
Another ongoing daily activity is the "Put Your STAMP on Duluth," which presents the various artistic design options being proposed for decorative downtown crosswalks. Voters can choose their favorite pattern to give Main Street an artistic flair!
The remaining six days of Barefoot in the City will have an assigned theme and fun activities!  Monday, May 11th, will focus on "Dancing the Day Away." Classes for aspiring young dancers are scheduled at Miss Cindy's Dance Studio, 3300 Peachtree Industrial Parkway, Suite C, with ages 3 -7 at the 4:00 -5:00 p.m. class, and those 8 and older from 7:00 – 8:00 p.m.
Tuesday, May 12th is themed "Art You Going to Join."  A stroll through the Hudgens Center for the Arts, located at 6400 Sugarloaf Parkway, Suite 300 from 10:00 a.m. – 5:00 p.m., will inspire all art lovers!   Visit the gallery and be excited or purchase a favorite item to enjoy art at home.
"Art You Going to Taste" is the culinary and beverage focus for Wednesday, May 13th, which includes cupcake decorating, learning the techniques of great apple pie baking, and also tasting craft beer and wine! The food events will occur at 3107 Main Street and will be hosted by the adjoining Espresso Theory coffeehouse and Crave Pie Studio bakery.  Cupcake decorating is scheduled from noon – 2:00 p.m., and "The Art of Pie" from 10:00 a.m. – 7:00 p.m., demonstrating the Crave Pie staff's secret techniques for delicious pie baking!
Best of Brews, located at 3099 Main Street, is the tasting site for craft beer connoisseurs from noon until 7:00 p.m., Wednesday, May 13th.  "The Art of Wine" will be hosted by the Duluth Package Store, 2870 Peachtree Industrial, Suite A, also starting at noon, but ending at 6:00 p.m.
Thursday, May 14th is "Tweet & Go Seek Day." Art lovers are challenged to find pieces of glass art, tagged with Barefoot in the City identifiers, hidden throughout Duluth. Participants are urged to photograph and Tweet their discoveries, but also keep what they find! Using the hashtag #SoDuluth or #ArtWeek, those who accept the challenge are also encouraged to post the pictures of their treasures on Duluth's Facebook page!
Fridays-N-Duluth coincides with Barefoot in the City activities and the "Art You Going to Party" theme of May 15th. Angelina Jolie stars in Divergent for that evening's Flicks on the Bricks movie presentation. Also, "Put Your STAMP of Duluth" continues from 6:00 – 9:00 p.m. on the Duluth Town Green so that you can vote for your favorite artistic pattern to adorn downtown Main Street crosswalks.
Saturday, May 16th concludes Barefoot in the City with "Creating Duluth's Art Beat." This event includes artist sketches of the week's activities and performances by the Atlanta Tiako Project from 2:00 – 3:00 p.m.  This is also a final opportunity to view the "Put Your STAMP of Duluth" options.  All activities will be hosted by the Adrian Collaborative located at 3150 Main Street.
Come visit Duluth for both Barefoot in the Park and Barefoot in the City and discover why our city is flourishing as a venue for art, culture, music, and family fun!