The City of Duluth is excited to announce the 2022 event schedule. As always, this year's lineup has a little bit of something for everyone including food trucks, concerts, movies and more!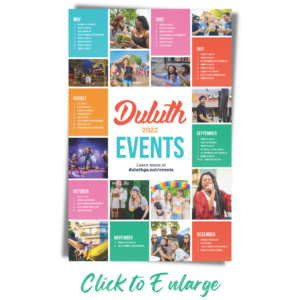 The event season officially kicked off in January with the Duluth Farmers & Artisan Market. In addition to shopping with local vendors on the 2nd Sunday of the month, each market features live music, themed photos ops and free children's activities. Community favorite Flicks on the Bricks returns with a free movie under the stars on the first Friday of June, August and September.
Flicks on the Bricks Schedule:
June 3 – Spider-Man: No Way Home (PG-13)
August 5 – Aladdin 2019 (PG)
September 2 – Charlie & the Chocolate Factory (PG)
Fridays-N-Duluth (FND) kicks off April 29 from 6-9pm in Downtown Duluth and runs through September 16. FND includes both Food Truck Friday and Block Party on Main events. Food Truck Fridays will take place on all odd number Fridays and will feature live music, food trucks and vendors. The themed Block Party on Main events will take place on all even numbered Fridays and will feature food trucks and themed entertainment. Block Party themes will include a Friday Fiesta, Dog Days of Summer, International Night, Bringing Back the 90's, Caribbean Night, Mardi Gras in July, Lantern Parade and Whimsical Wonderland.
Signature events such as Back-to-School Bubblepalooza, Howl on the Green, Deck the Hall and Cookies & Cocoa with Santa will all be back for 2022. Other community favorites returning this year include Duluth Derby Day, Duluth on Tap, Rocky Horror Picture Show and the Duluth Spring Arts Festival.
Duluth's Art Month will take place in August. Art-centered activities will include Seek Duluth, a community art project, the DFAL Art Walk and more! The FND Block Party on Main Lantern Walk will be the ultimate finale to Art Month on August 26.
The Evolution of Pop will headline the Summer Stage Concert on July 23. Cinema at the Red Clay will continue with a free movie showing the first Thursday of each month, October-December.
We will be bringing the glitz and glam of Las Vegas to Downtown Duluth on June 25 at Viva Las Duluth. The main stage will play host to all your favorite Vegas strip performances including magicians, cirque-style dancers and impersonators.
Pop-up events quickly became a favorite in 2020. Our community can expect this fun trend to continue in 2022 so be sure to follow our social media and be the first to know when a new pop-up is announced.
Facebook: @CityofDuluth
Instagram: @City_of_Duluth
Twitter: @CityofDuluthGA
For more information, on all upcoming events visit www.duluthga.net/events