On Monday, October 16, 2023, the City of Duluth, Georgia embarked on a magical journey as they broke ground for the much-anticipated Playable Art. A testament to community creativity and the spirit of play, this unique project has captured the imagination of residents across Gwinnett County.
In 2022, the City of Duluth invited Gwinnett County residents of all ages to submit drawings of their dream pieces of playable art for the Playground Design Contest. Among the 175+ entries, designs ranged from sea creatures to tree houses, pirate ships to crash-landed satellites, and musical instruments to giant animals. withthe youngest artist to participate being just three years old!
The Duluth Public Art Commission faced a fun yet challenging task of analyzing these submissions and selecting the top nine. The Mayor and Council, used these top nine designs to determine their top three winning selections in July of 2022. Ultimately, the winning design, submitted by Lyn-Nell Huffman, was inspired by a willow tree, and it became the foundation for the creation of the Gigglebark Tree.
The Gigglebark Tree playground is a visually stunning combination of several trees. It boasts the colorful bark of a Eucalyptus, the twisting roots of an Overcup Oak, and the swaying branches of a Willow Tree. What sets this playable art apart is the inclusion of a slide winding around the trunk and a root system with steps and tunnels. To add a touch of enchantment, the willow-like branches will illuminate the playground, creating a magical ambiance for all who visit.
Breaking ground on this extraordinary project was anything but ordinary. In a whimsical turn of events, the Mayor, council members, and other adults in attendance were transformed into kids, celebrating the childlike wonder that the Gigglebark Tree playground promises to inspire.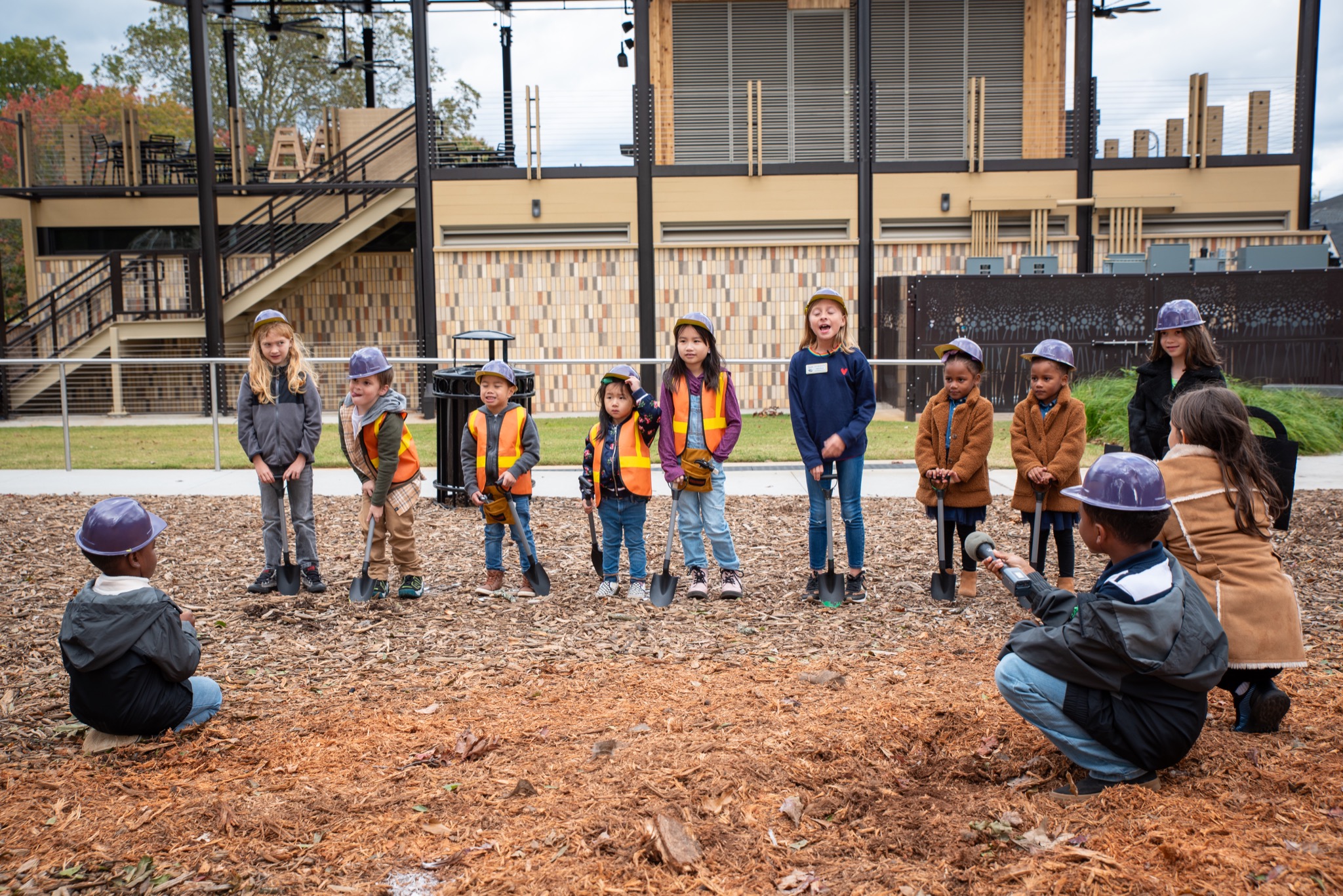 "Duluth has always been a place where art and play converge. The Gigglebark Tree is a symbol of our commitment to fostering creativity, nurturing our green spaces, and ensuring that all generations can find joy right here in our city" said Mayor Nancy Harris.
The Gigglebark Tree Playground is an extension of the existing Taylor Park playground in Downtown Duluth. While it's always bittersweet to say goodbye to old trees, some of them had to be removed due to disease, and their tendency to drop branches and pecans, making them unsuitable for a children's play area. However, the City is committed to maintaining the natural beauty of the area and plans to work with an arborist to plant new, safe trees once the playground is complete.
During the interim period as the new trees grow and provide natural shade, the City will install shade sails around the playable art, ensuring that visitors can enjoy the playground even on the sunniest days.
This exciting project is expected to take a couple of months and is being brought to life by ID Sculpture, a company known for their innovative playground designs.