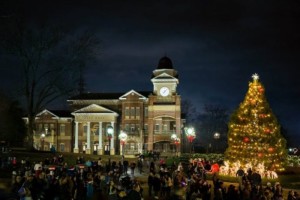 "Santa is coming!  Santa is coming!"  All good little boys and girls, as well as adults, will want to visit the Duluth Town Green on Saturday, December 5th, for the annual Tree Lighting festivities, signifying the start of the upcoming holiday season. This 37th annual celebration of seasonal sights, scents, sounds, and Santa will occur from 5:00 – 8:00 p.m. in Downtown Duluth.
A variety of activities abound for those young and old on December 5th including the lighting of the Duluth Town Green tree and the arrival of Santa aboard the Duluth Express!  
Food, drinks, crafts, and music for kids and adults alike will fill Downtown Duluth with the holiday excitement and enjoyment of this most joyous time of year.
Before Santa's arrival, music will fill the air and captivate everyone with the spirit of Christmas. The Chattahoochee Elementary School Choir will sing holiday favorites and a performance by local vocalist, Emily Vance, will include her new single "Christmas Stays the Same" and a rendition of "Oh Holy Night." Bands from both Freedom Church and 12 Stone Church are also  scheduled to perform for the crowd.
The evening will begin as Duluth City Council members gather at City Hall to meet the public from 5:00 – 6:00 p.m. These Duluth officials will answer questions from constituents or just introduce themselves to anyone interested in talking to our city's leaders.
A big white tent on the Duluth Town Green will offer free ornament-making for kids who want to design their own holiday ornaments. This is a great opportunity to commemorate Christmas 2015 with a lifelong keepsake.
After the unveiling of the beautiful lights adorning the Duluth Town Green tree, the evening concludes with an entrance by the jolly man himself, SANTA!   Riding the Duluth Express, Santa will be visiting the Festival Center Stage for photos and to hear what good boys and girls might want for Christmas. So start making your lists now.
Food options will be abundant for those hungry Tree Lighting participants. BBQ enthusiasts will savor the offerings from local favorite ANGELFIRE7 BBQ, while Bucket O' Shrimp will provide "great eats" to seafood lovers. Simply Done will offer fresh made to order Hot donuts. Espresso Theory will have an assortment of seasonal drinks, both hot and cold, to warm chilly hands or to cool off, in case the evening is unseasonably warm.
A Toys for Tots donation site will be available to collect new, unwrapped gifts. Everyone bringing a Toys for Tots item, will receive a raffle ticket to win tickets for an upcoming Georgia Swarm Lacrosse match.
The Salvation Army will be represented in order to take monetary contributions for their annual holiday "Red Kettle" fund. This seasonal campaign offers help to thousands of Georgians throughout the year when disaster strikes and impacts the lives of our families, friends, neighbors and other local citizens.
Start your 2015 holiday season in Downtown Duluth with the 37th Annual Tree Lighting ceremony on Saturday, December 5th, from 5:00 – 8:00 p.m.
Enjoying the wonders of Christmas is one of the best things to do in Duluth GA. Watch in awe the lighting of our town's "Great Tree." Meet Santa. Eat some delicious food.  Craft a Christmas ornament. Talk with Duluth City Council Members. Hear festive live music and make a Toys for Tots or Salvation Army donation, all occurring on Saturday, December 5th, from 5:00 -8:00 p.m., on the beautiful Duluth Town Green and Festival Center Stage!
###