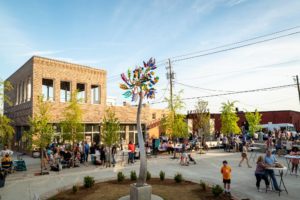 The City of Duluth's Downtown Development Authority is partnering with Uber to offer free roundtrip rides (up to $25 each way) on Thursday evenings to its downtown restaurant and retail district. The promotion launches this Thursday, September 20th and will run through November 8th. Riders will be able to redeem their rides with a unique promo code each week that will be posted on the city's Facebook, Instagram and Twitter accounts.
The program is part of a larger plan to more pro-actively advertise and market the downtown area to residents and visitors.
"Duluth has seen a tremendous amount of growth throughout the city in the last couple of years." said William Corbin, the city's Economic Development Specialist. "This promotion is the perfect opportunity for both newcomers and regulars to check out all of the exciting changes to our downtown district."
Visitors will be able to take advantage of downtown Duluth's to-go drink district, and try out a variety of establishments new to the block, including Truck & Tap (a local restaurant/bar featuring a rotating selection of food trucks and craft beer), Good Word Brew Pub, and the newest restaurants – Noona and Four Forks/Madcap's.