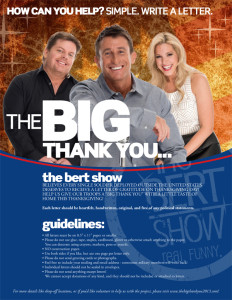 Starting today, the City of Duluth will be participating in helping the Bert Show, "Big Thank You." Lori Edelkind, will be collecting the letters and ensuring that they get to the Bert Show, for the "Big Thank You 2015."
There is a drop box for letters, in the lobby, at Duluth's Public Safety Building, at 3276 Buford Highway, Duluth, 30096, until October 26th, 2015. Letters must be submitted by October 26th to ensure that soldiers receive them on Thanksgiving.
Per the guidelines of the Bert Show, each letter should be heartfelt, handwritten, original, and free of any political statements. The purpose of the letter is to express thanks to the military personnel currently deployed outside the United States. We reserve the right to eliminate those messages that are political in nature and do not reflect a positive message in the spirit of Thanksgiving.
All letters must be on 8.5" x 11" paper or smaller.
Do not use glue, tape, staples, cardboard, glitter or otherwise attach anything to the paper.
NO construction paper.
Decorate using crayons, markers, pens or pencils.
Use both sides if you like, but use one page per letter only.
Do not send greeting cards or photographs.
Feel free to include your mailing and email address.
Individual letters should not be sealed in envelopes.
Do not send anything except letters.
For more information, visit http://thebertshow.com/bigthankyou/. For Duluth questions, email Lori Edelkind at ledelkind@duluthga.net.
###