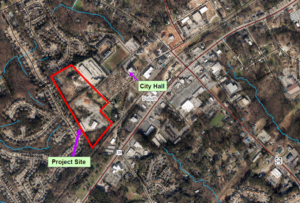 On Friday, January 27 the City of Duluth gave the official go-ahead to begin construction of a new downtown community that will feature close to 100 homes. The development will sit on 18.81 acres of land near City Hall at the corner of Hill Street and Hardy Street.
Home South Communities (Home South), a Gwinnett-based developer, will be leading the project. Home South is also the lead developer for the 36-unit townhome project that is currently under construction directly across City Hall. In total, this represents a $53 million investment.
"We are happy to be a part of Duluth's vision to create a vibrant downtown," said Clint Walters, VP of Land Acquisition and Development. "The high quality of food, retail, and entertainment options nearby is one of the reasons why we chose downtown Duluth as our project location. It will definitely help us to generate interest and find buyers."
The developer expects to build 59 townhomes and 39 single family homes, with the first residence scheduled to be delivered fall 2018.
Also worth mentioning: according to a prior agreement, Gwinnett County may start the construction of Duluth's new library when the stormwater detention pond for this residential project reaches 50 percent completion.
Will Corbin, Duluth's Economic Development Specialist and staff  liaison for the project, is eager for the project to begin.
"Both the Downtown Development Authority as well as City Council have been working very hard over the past few years to make this project a reality," Corbin said. "We are excited to continue the transformation of downtown Duluth into a truly walkable community."
This project is just the latest in a surge of both residential and commercial construction around Duluth's downtown area. Parsons Alley, the city's newest restaurant and retail district, will be fully built-out later this year. Dreamland Bar-B-Que and the sweet shop Chocolaterie are already open for business.
Other confirmed companies in Parsons Alley include Taiyo Ramen (formerly Makan), Simply Done Donuts (an Atlanta food truck opening its first brick-and-mortar restaurant), and Good Word Brewing & Public House (from the creators of Brick Store Pub in downtown Decatur). In the past year downtown Duluth has welcomed O4W Pizza (formerly near Krog Street Market in Atlanta), Epicurean Cafe, and Piatto Fresh Kitchen & Bar.
In this next year, other businesses slated to open downtown include a yoga studio as well as Truck & Tap, a restaurant/bar featuring a rotating selection of local food trucks and craft brews.
The other recent major downtown project is District at Duluth, the $64 million mixed-use residential and commercial development under construction at the corner of Buford Highway and State Route 120 (Duluth Hwy).
Together, all of this new downtown development represents nearly $120 million of recent and current investment in the downtown Duluth area.