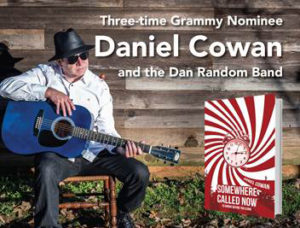 Three-time Grammy nominee Daniel Cowan, AKA Dan Random has recently released his debut science fiction novel with original music soundtrack, "Somewhere Called Now." Dan will alternate readings with songs from the book/soundtrack with his band at Eddie Owen Presents on August 25th.
Eddie Owen Presents and the Gwinnett County Library welcome Daniel Cowan and the Dan Random Band for a free talk and live performance.  Seating for the show is limited. The book will be available for purchase and signing.
Dan Cowan is the author, composer, and producer of a unique reading and listening experience, which weaves science fiction with original music. Sample readings from the book as well as music from the soundtrack can be found at HERE.
To reserve a seat, visit HERE. Tickets not picked up by 7:30pm the night of the show will be given to the public on a first come, first serve basis.